Every few weeks on a Sunday there is a small but lively market in our village. We have a stand where we sell our home-made soap, toothpaste, creams, bread and plenty of other things – depending on what projects and skills volunteers and staff are working on at the moment. The next market will take place this Sunday 17th April – come and join us!
It's also a nice opportunity to meet the neighbors, who either also make amazing products or just want to have a look around and stay for a chat. The communal atmosphere is one of the things that makes living in Los Molinos so special – and it's even better when visitors come to visit on market day and see our village for themselves.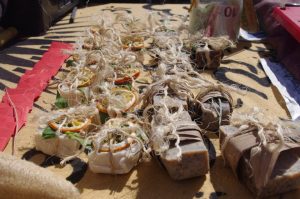 There is also a stand about the ecocide, where you can get information about the serious water problem the village suffers from. If you're interested, you can watch this movie – well worth seeing – or you can check out this blog post to learn more.
Our village may not be very big, but there is everything a market needs: art, jewellery, food, live music and a lot of positive people! We'd love you to join us on Sunday 17th April in Los Molinos del Rio Aguas.

You'll also find us at other markets and festivals throughout the summer, including…
In amongst the free music, workshops and fun at Etnosur in July.
At Boom festival in Portugal, where we'll be sharing the Sunseed story with talks and demonstrations all week!
At Ecoaltea, the "festival of alternatives" in Alicante.
If you are close to any of these events feel free to come and visit us!