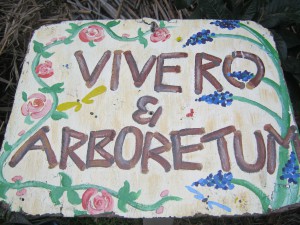 Life in the Drylands department has been busy over the last couple of months. In February we gathered a large amount of netting and sewed up the holes with yarn from our sewing box, to use as a cover for the tree nursery. Temperatures soar from May onwards, so we prepared a protective net, which provides shelter and shade for the seedlings as they grow.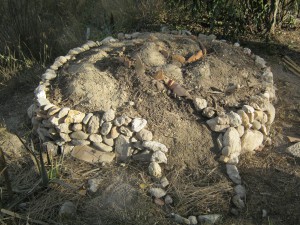 Our volunteer Guilia has started to build a herb spiral in the arboretum that will contain cuttings from herbs grown in the gardens. This is positioned in a shady area but will get plenty of sunlight in the middle of the day. We had a communal activity to bring about 15 buckets of soil down from the area behind the main house to help her build the structure. She's using rocks and old pieces of terracotta to line the growing edge of the spiral. Herb spirals make great use of vertical space by spiralling upwards instead of outwards, and make use of several microclimates around the mound.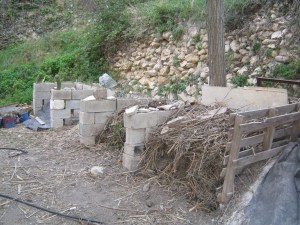 The compost piles in the arboretum need frequent watering because the climate is extremely dry. To help keep the humidity in, we add organic matter from weeding in the arboretum and the wastewater systems, then add a protective layer, here out of cane leaves, but plastic as well if we have it.
Next in Drylands we're going to make maps of the area and redo some of the signs and labels for the trees and nursery areas. They're highly informative but in need of a revamp!