The term Bokashi comes from Japanese and it means a fermented organic matter. We chose to apply this technique for its several assets (developed later), but with some adjustments according to our resources available around us.
Basically, a Bokashi system need sources of Nitrogen, Carbon and other nutrients which will be fermented by Effective Microorganism (EM) with the help of sugar additions and material with porosity to enhance their growing.This technique provides fertilizers as a basic compost, it is very fast (around two weeks), and the final result is very close to a natural humus. It contains EM and the growth factor hormones added through a Fermented Plant Juice (FPJ) and a higher C/N rates than a compost. What better material can we ask for our work in soil regeneration in the Drylands Department?
So how did we make it? We used:
around 400kg of humanure mixed with
100kg of soil
some straws chopped
ashes for the Carbon content (and also regulate the pH)
coffee grounds for the porosity and their nutrient content
diluted pee.
This is our appropriation of the Bokashi system; otherwise the best materials are rice bran hull, any manure, compost, garden soil and some molasses.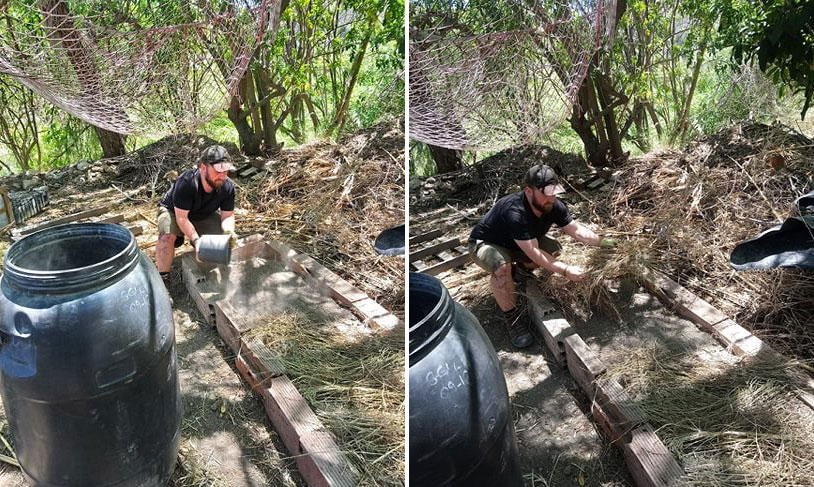 Then we raised the humidity rate up to 60% by adding the water and a mix of EM, FPJ and sugar. Our EM had been home made with some soil harvested under canes and put in appropriate conditions to grow. This is called Indigenous MicroOrganism culture (IMO).
Finally we'll have to follow the temperature of this mud cake during two weeks and turning it when needed (from 1 to 3 times a day) and eventually harvest the final product – the nutrients for the trees used in reforestation, made mainly from human output.
At Sunseed nothing goes to waste, especially our toilet waste. This week I had the opportunity to help build a Bokashi compost from scratch with Dimitri in the Drylands department. It's quite an inventive process, using all natural material to create rich hummus in just 2 weeks!

It feels like a chemistry project; 3 litres of this, two tablespoons of that and hey presto we have soil. As we were building it Dimitri explained each step and why we do it, which really helped me understand how amazing a process it really is. Permaculture is revolution disguised as gardening!

Peter, short term visitor
For further information we can advise you to get a look at the "NATURE FARMING MANUAL. A handbook of preparations, techniques and organic amendments inspired by Nature Farming and adapted to locally available materials and needs in the Western Visayas region of the Philippines, Helen Jensen, Leopoldo Guilaran, Rene Jaranilla & Gerry Garingalao." It has been our guideline for the Bokashi principles.